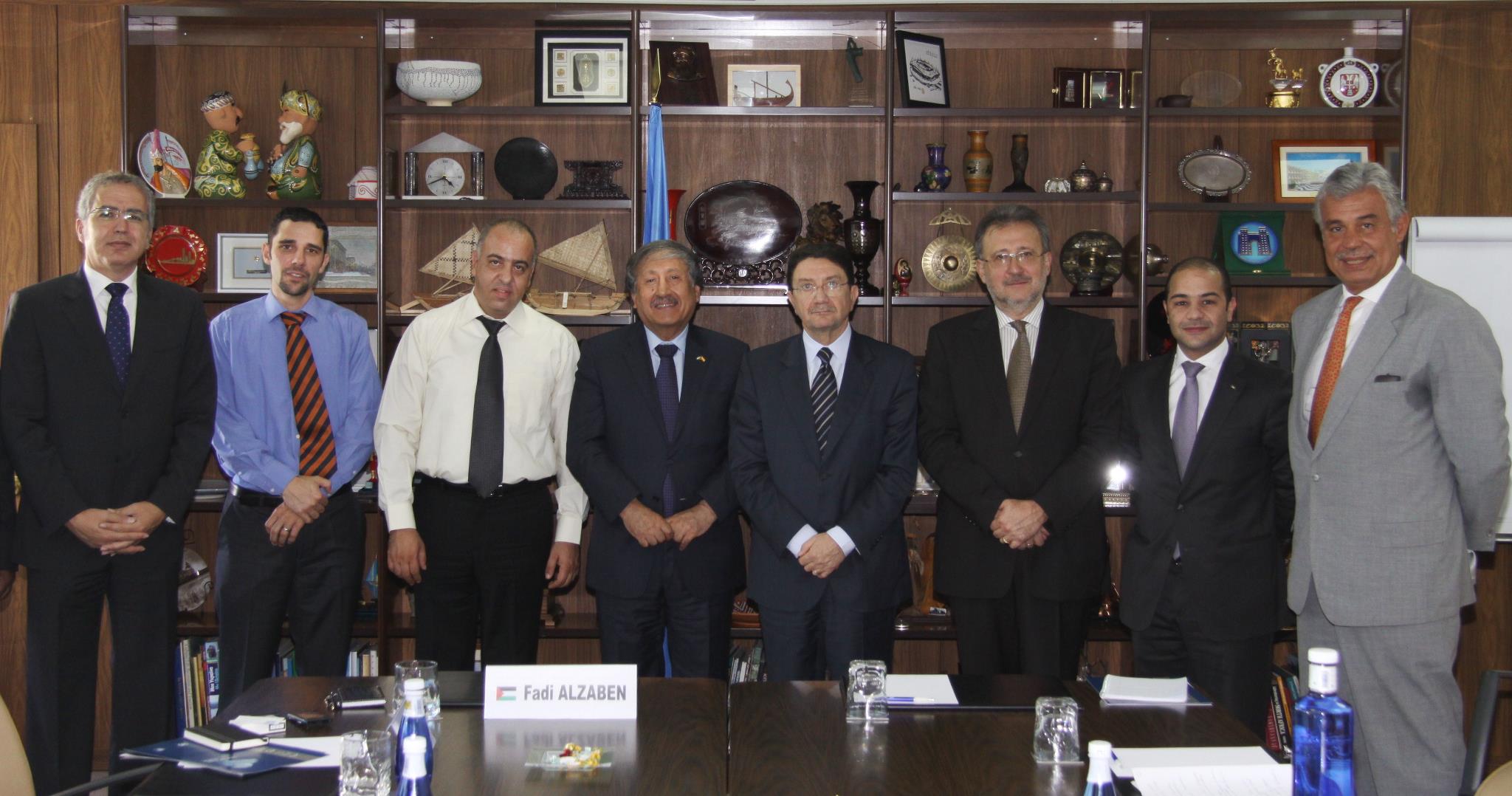 A joint delegation led by the Palestinian Ambassador to Spain Mr. Musa Amer Odeh and Mr Rami Kassis, Executive Director, Alternative tourism Group, Beit Sahour, met with officials of the UN-World Tourism Organization (UN-WTO).

The UN-WTO delegation was led by Mr Taleb Rifai, Secretary General, UN-World Tourism Organization. He was accompanied by two senior officials of the UN-WTO including: Mr. Zoltan Somogyi, Executive Director, UNWTO, and Mr. Amr Abdel-Ghaffar, Regional Director for the Middle East, UNWTO.

The delegation from Palestine reported to UN-WTO officials some of the issues confronting Palestinian tourism agencies and operators at private level, and in the civil society sector. They also narrated the new initiatives now under process in Palestine to install new and innovative forms of tourism through NEPTO (Network of Experiential Palestinian Tourism Organization), and the Palestinian Initiative for Responsible Tourism (PIRT) – an umbrella organization which unites government agencies, NGOs, civil society groups and concerned individuals.

The ATG delegation also described new plans and initiatives especially the recently developed 'Guidelines for Pilgrimage' and the 'Code of Conduct for travellers to the Holy Land'. They described their plans to further develop the Pilgrimages for Transformation – an initiative designed to offer concerned and committed pilgrims a way to understand how they can become messengers of a peace with justice in the Holy Land.

Mr. Rami Kassis extended to the UN-WTO officials an invitation to visit Palestine- to 'Come and See' the truth of the everyday reality of Palestinians and examine ways in which the UN-WTO may support the development of the Palestinian tourism sector.

The Palestinian Ambassador was also accompanied by senior officials of the Palestinian representative Office in Spain. They included: Mr Raouf AlMalki, Counsel for Cultural Cooperation, and Mr FadiFadi Al Zalben, First Secretary.

The ATG delegation comprised Mt. Sami Khoury, General Manager, VisitPalestine.ps who is a researcher and consultant on tourism issues in Palestine. Also accompanying the team was Mr. Ranjan Solomon, an International Development and Alternative Tourism consultant.


---
The
Alternative Tourism Group
(ATG) is a Palestinian NGO specialised in tours that present a critical look at the history, culture and politics of Palestine and its complex relationship with Israel. Located in Beit Sahour, near Bethlehem, the ATG was founded as a non-profit tourist agency in 1995, when many Palestinians felt that their contemporary culture and the political realities they were living did not find adequate expression in conventional pilgrim-oriented tourism.