A Year at a Glance 2017
Karibu Foundation Annual Report for 2017
"A Year at a Glance" is a small collection of some impressions and glimpses from various programmes and activities organized by partners of the Karibu Foundation in 2017. Click below to read more.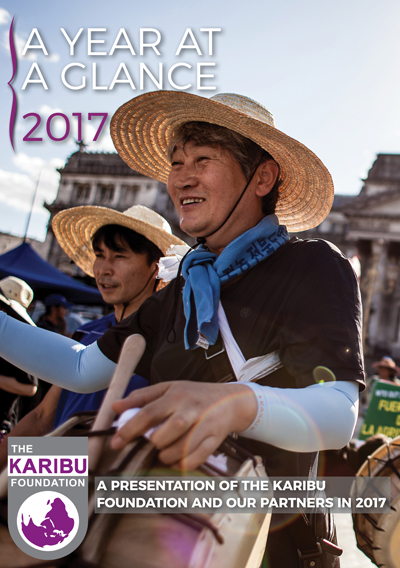 A word from the Secretariat:

Dear friends,
In December 2017, Karibu participated in the 11th WTO Ministerial Conference in Buenos Aires together with many other organisations and social movements. First and foremost it was a great learning experience to be involved in the excellent advocacy efforts and mobilisation by the Karibu partners OWINFS (Our World Is Not For Sale) and Jubilee South Americas / Dialogue 2000. We found that the 'inside advocacy' of directly approaching national delegations and decision makers, and the 'outside advocacy' of organising side events and demonstrations to raise awareness in the public – seemed to complement each other well, being both great examples of civil society involvement in policy-making within a democratic framework.
Unfortunately, through the actions and 'bullying approach' on social movement activists by the Argentinian government, we also experienced a very different view on civil society involvement. With an ungrounded assumption that some people would be a risk for violence and upheaval, 64 people from various civil society movements and organisations from all over the world were denied entry to Argentina despite all having received accreditation as NGO-representatives by the WTO.
The designated NGO area at the WTO MC11 was like a fortress, with heavy armed soldiers all around the building and security people on all floors. After a peaceful demonstration with thousands participating, around 20 activists continued and provoked with crushing car windows and sit-down in the street. The Argentinian government was ready for 'some action' and got a chance to prove that they were right in their idea of social movements being equal to violence and terror, and let the army bulldoze in with several hundred soldiers, armed vehicles and a pushy and provocative approach.
You can hear similar or comparable stories from many other parts of the world. Social movements and human rights activists are increasingly being labelled as dangerous, causing violence, representing security threats, or even some times as being terrorists.
From a partner representative in Israel we have received the following reflection: "More and more donors, mostly USA based, but also some from the UN-network and even others that claim to be progressive – become the implementers of government policies when they include anti-terror language in their grant agreements. Affiliation with certain political parties or organisations is also seen as 'terrorism' and these 'watchdog lists' are defined as such by the global North." This becomes a threat to democracy, and it is ideologically justified in "an official discourse that privileges individualism and disparages solidarity and social justice. Today we see a renewed expression with overtones of neo-fascism that is exacerbating this vision, stirring up racism, xenophobia, fear of terrorists, as well as normalising invasive security. In sum, it presents alternative thinking as a threat to society."
All this has come to our mind at the turn of this year. As we move into a new beginning and commit to be part of shaping the future, the reality of the drastic shrinking of space for civil society and the threats against democracy seems to us to be one of the big challenges ahead. Ultimately, through all the issue focused involvements of Karibu and through our great partner network, we are aiming to contribute in the building of democracy, people's power and increased grass-roots involvement. Decision-making needs to be by all people, and not only by elites, people with economic and military power, transnational corporations or the financial institutions. Leaning on the wise advise of our partner representative in Israel, our joint effort to build peoples power requires "clear analysis of the adversaries; a clear understanding of how these power-mechanisms work as well as the ability to confront these adversaries. Not only in the specific areas of each social struggle such as labour, environment and agriculture, but also on the terrain of ideas, culture and communication".

This, not less, would be our dream and wish for a new year: that we all, Karibu and partners, could join together in building true democracy and struggle for peoples power.
A Year at a Glance 2017 contents:
- Word from the Secretariat
- Grants shared in 2017
- Voices from the South
- Another world is possible
- Who we are
- Photos and stories

Posted by Karibu Foundation - Last updated 17.01.2018