China and the WTO: Implications and New Challenges of Chinas Accession to the WTO
Han Dequiang, Antonio Tujan Jr.
4th Annual Conference of the Asia-Pacific Research Network - November 4-6, 2002 - Guangzhou, PRC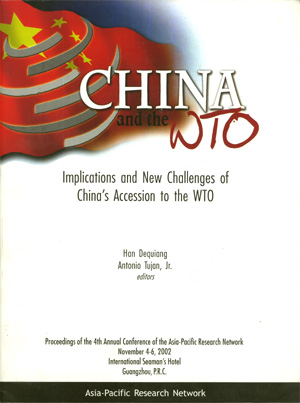 [APRN]
A compilation of speeches, workshop papers and results presented during the conference on China and the WTO organized by the Asia Pacific Research Network from 4-6 November 2002 in Guangzhou, People's Republic of China..
The conference brought together NGOs and social movements in Asia-Pacific, Chinese NGOs and academics with the objective of addressing the implications and challenges of China's entry to the WTO. The discussions focused on the impact on the farmers, workers, women and other sectors of Chinese society. This conference aimed to promote cooperation in developing strategies for contesting the WTO towards Cancun and plan out concrete projects and campaigns, especially coordinated researches into the impact of the WTO on the economies and peoples of the Asia Pacific.
8.5 x 11 in. 180 pages (en) + 157 pages (ch)
ISBN 971-0325-02-7
See on APRN library.

Posted by Karibu - Last updated 06.11.2003